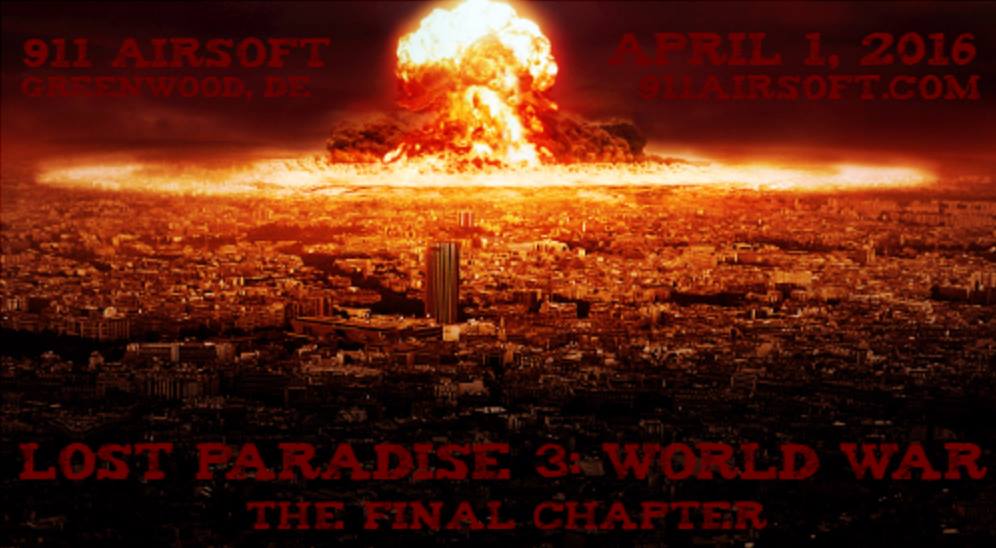 Lost Paradise 3: World War
For months, Sunia has been occupying Azul following their defeat in the previous war. But finally Sunia has left Azul, only under threats of attacks by Azul's neighbors. Now Azul begins to rebuild it's country and military with the help of it's neighbors. The Azul Alliance was created to help protect not only Azul but other countries across the world from Sunia. Meanwhile, Sunia has begun to make friends of its own and as a result the Sunia Confederation was formed, an alliance of countries opposed to Azul and its allies. As tensions rise, more countries are either joining the Azul Alliance or the Sunia Confederation. The world is on the brink of war. Which side will you choose...
Follow the news on the
Facebook Event Page!
There are no uniform requirements to play on either team. Players will get yellow or blue tape at chrono before starting the game. Appropriate eye protection, barrel covers required!
So what started all this conflict??
Game footage from Lost Paradise 2!